Attic Treasures & Friends Sale
All Church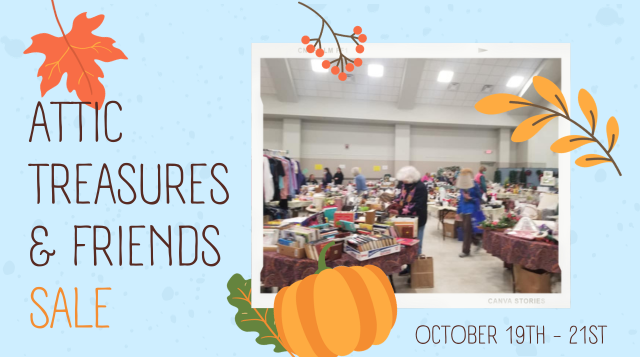 This year's Attic Treasures & Friends Sale will take place in Founders Hall from Thursday, October 19th - Saturday, October 21st.
The sale takes place:
Thursday, Oct. 19th, 9 am - 6 pm

Friday, Oct. 20th. 9 am - 6 pm
Saturday, Oct. 21st, 9 am - 2 pm (or when everything is gone)!
There will be attic treasures, quilted & hand-crafted items, a bake sale, lunch (chili, hotdogs, rice), Decor & More, and the Moonflower Garden Club. Stop on by!!!
Interested in donating to the sale? Donations will be accepted in Founders Hall during these times:
Sunday, Oct. 15th, 12 – 4 pm
Monday, Oct. 16th, 9 am – 6 pm
Tuesday, Oct. 17th, 9 am – 6 pm
Wednesday, Oct. 18th, 9 am – 6 pm
Event Coordinator
•

Gail Eden